Toddler (Explorers)
Monday through Friday for children ages 1½ (if they are walking) through 2½ years old
Providing a loving and nurturing environment where children are safe and free to explore the world around them
Bible stories and prayer are included into the curriculum
Crafts, Music classes, Outdoor activites, Sign Language
Charting the development of each child as they reach new milestones
ENCOURAGE ACTIVITY: It might look like just child's play, but toddlers are hard at work learning important physical skills as they gain muscle control, balance and coordination. Each new skill lets them progress to the next one, building on a foundation that leads to more complicated physical tasks. We take advantage of the toddlers desire to keep moving by offering them age appropriate activities. Even at this early age, children establish patterns of activity that carry through the rest of childhood.
DEVELOPING SKILLS: Playing and learning are completely natural for toddlers. We give toddlers many opportunities to practice their developing skills while providing supervision so they stay safe while they learn. We provide opportunities for toddlers to explore, use his or her imagination, and practice fine motor skills, such as stacking blocks or coloring.
SIGHT: By age 2 young toddlers will notice lots of details and depth perception is well-advanced. We provide toddlers with pleasant, stimulating visual information. Picture books, colorful toys, and an opportunity to learn and play with other children their own age.
HEARING: No matter when toddlers say their first words, they'll already understand much of what is said to them before that. Toddlers will enjoy listening to children's songs and music, laughing and hearing stories. Toddlers able to point to some body parts, even if he or she can't yet tell you their different names, shows that your toddlers hearing is functioning well and language skills are developing.
TOUCH: Providing toddlers with a cuddle and affection is a necessary part of their lives. Toddlers are experiencing and understanding so much more than this, but still need to feel loved and secure. We take the opportunity to show them this daily.
LANGUAGE: Toddler language development differs greatly among children. Toddlers often understand more words than they can speak. We give children opportunity to develop language skills by having them follow simple instructions and help them form words. Baby sign language is practiced with toddlers on a daily basis. *Our daily schedule for Toddlers consists of exploration and free play, morning and afternoon snack (provided by the center), age appropriate craft, Bible stories, prayer and large motor activities either outside or in the gym. *Baby sign language is practiced with toddlers on a daily basis. *Twice a month music class is offered on Mondays. *Lunch, diapers and wet wipes must be provided by each family.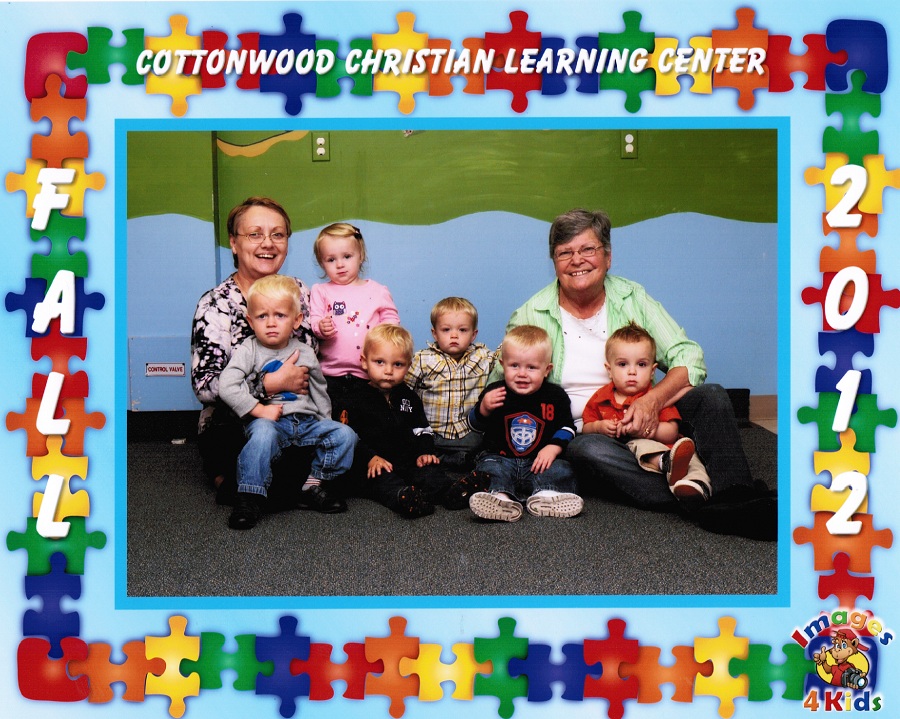 | | |
| --- | --- |
| 6:15-8:00 | Arrival, Hello's and Goodbye's. |
| 8:00-8:30 | Diaper changes |
| 8:30–9:00 | Clean- up, wash hands, Snack. |
| 9:00-10:00 | Indoor experiences which include choice time, Bible stories, singing, art, and sign language. |
| 10:00-10:30 | Diaper changes |
| 10:30-11:15 | Dressing Outdoor experiences/Gym Dressing |
| 11:15-12:00 | Wash hands and lunch |
| 12:00-12:30 | Diaper changes and Indoor choice time |
| 12:45-1:00 | Clean up and Story time |
| 1:00-2:45 | Nap time |
| 2:45-3:00 | Diaper changes |
| 3:00-3:30 | Wash hands and snack tim |
| 3:30-4:30 | Dressing Outdoor experiences/Gym Dressing |
| 4:30-5:00 | Diaper changes |
| 5:00-6:00 | Indoor experiences, Hello's and Goodbye's. |
Contact Us
Please feel free to contact us by phone or email.
Click Here
Cottonwood Christian Learning Center
1101 Cypress Drive, Jenison, MI 49428
1101 Cypress Dr.
Jenison, MI 49428